Miso Soup 日本豆酱汤
Recipe source : Adapted from Just One Cookbook
Ingredients
1 piece konbu
4 cups water
1 piece soft tofu, cut into small cubes
3 tbsp miso
2 tsp dried wakame
Instructions
1. Use a damp cloth to wipe clean the konbu. Make a few incisions on the konbu.
2. Soak konbu in 4 cups of water for 3 hours.
3. Remove and discard the konbu after soaking. Strain the stock.
4. Bring the dashi stock to boil.
5. Use a ladle and dissolve miso in the ladle before adding into the dashi stock. Make sure the miso is dissolved completely.
6. Add in tofu cubes.
7. Add in soaked wakame.
8. Ready to serve.
who is hosting this month's Little Thumbs Up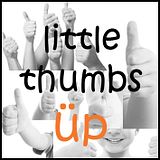 The theme for October 2013 is Soy beans